Dr. Antell Discusses the Importance of Chin Implants in New York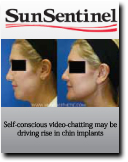 With the rise of technology and the growing use of video-chatting for business meetings and conferences, people are becoming more conscientious of how they look in motion. Moving images can display a different perspective of oneself compared to still images, and many people feel their appearance is falling short of their expectations. Dr. Darrick Antell was recently featured in a Sun Sentinel article for his chin implants in NYC. Dr. Antell offers chin implants in New York to give people a more defined jawline, balance their facial features, and provide them with a confident look. Click on the link below to read Dr. Antell's full featured Sun Sentinel article and learn more about chin implants in New York City:
Chin Implants New York— Print Media
Darrick E. Antell M.D., F.A.C. S. and his staff welcome patients to voice any questions or concerns you may have about chin implants in New York City. You may contact his New York, NY office at 212.988.4040 or request an appointment online to schedule a personal consultation with Dr. Antell.
Additional Links: