What is breast augmentation surgery?
Breast augmentation surgery will enhance the size and shape of your breasts. By inserting an implant into each breast, your breasts can be increased by one or more bra cup sizes. While breast augmentations are among the most commonly performed aesthetic procedures, the results vary depending on your surgeon.
For a beautiful, long-lasting result, reduced risk of complications, and a look that is perfectly balanced with your frame, consider Dr. Antell, a renowned breast augmentation surgeon in New York City and board-certified plastic surgeon, who has performed more than ten thousand plastic surgery procedures, including thousands of breast augmentation surgeries.
Breast Augmentation

Before & After Photos

by Dr. Antell
View All
Am I a candidate for a breast augmentation
with Dr. Antell?
Anyone in good health who is suffering from diminished self-confidence due to the desire for fuller breasts is likely a candidate for a breast augmentation. The decision to have a breast augmentation should be based on personal needs, rather than pressure from another individual.
A breast augmentation is ideal for a woman who:
For personal reasons, feels her breasts are too small and wishes to enhance her figure
Wants to correct volume loss after pregnancy and breastfeeding
Wishes to resolve a difference in breast sizes (breast asymmetry)
Desires reconstructive surgery following treatment for breast cancer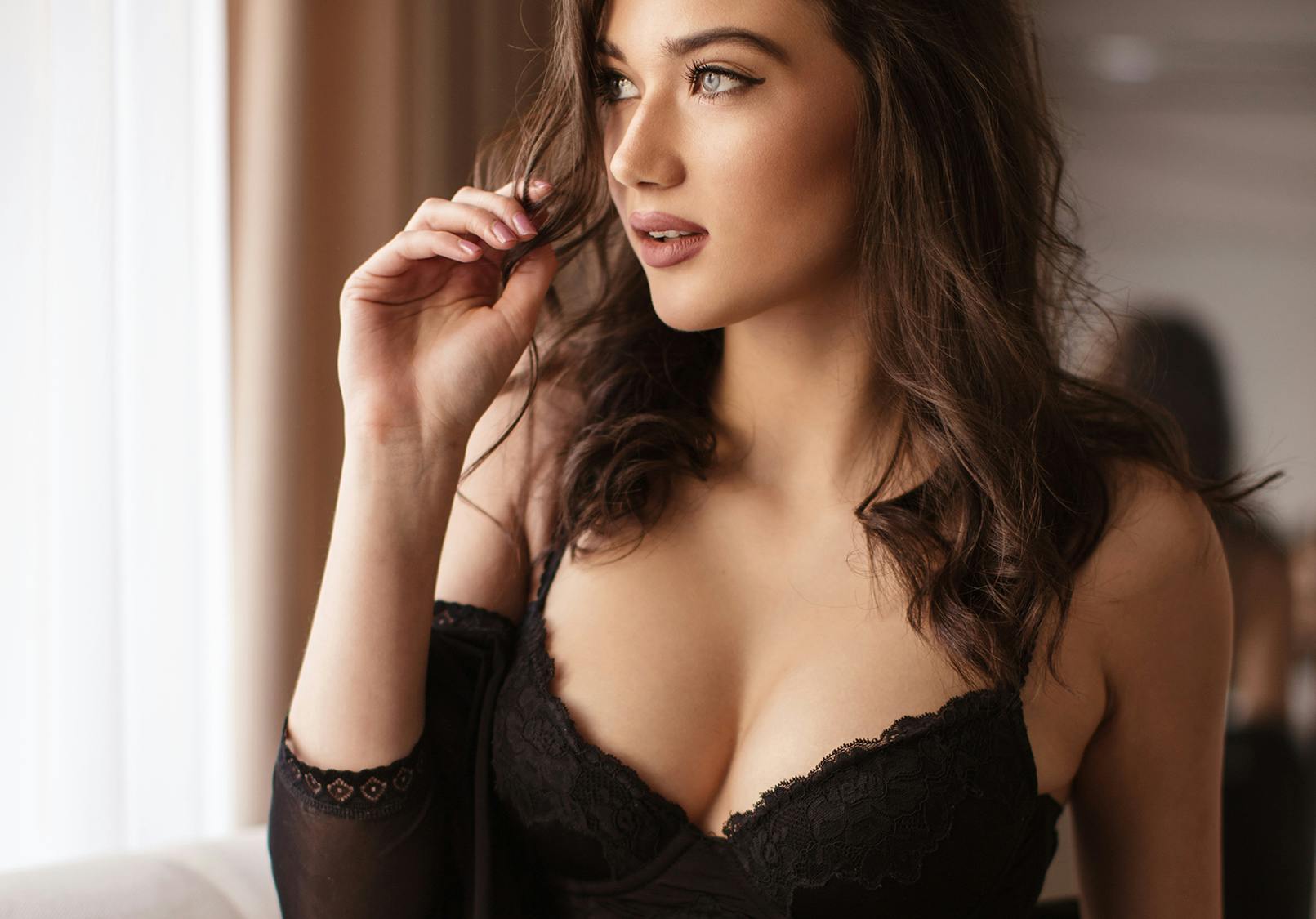 Why choose Dr. Antell
for my breast augmentation in New York?
Dr. Darrick Antell is board-certified in plastic and reconstructive surgery. He has focused his professional career on aesthetic procedures. He is among the most respected breast augmentation surgeons in the country. Trained at Stanford and Cornell, he exhibited extraordinary skill and talent throughout his education. Dr. Antell has been honored for his groundbreaking research study on identical twins and the aging process, with his work displayed in the Smithsonian Museum.
Dr. Antell has been listed in multiple magazines, including Harper's Bazaar and Town and Country, as being one of the best breast plastic surgeons in the country. The surgeons on this list are the most accomplished professionals in the nation, recognized for producing exceptional results. If you are considering breast augmentation in New York City, by choosing Dr. Antell, you will be under the care of one of the world's most acclaimed breast augmentation surgeons.
What is the Cost of Breast Augmentation in New York City?
Breast Augmentation, or augmentation mammoplasty, is the single most popular cosmetic procedure in the United States and abroad. Millions of patients undergo the procedure each year. Thankfully, it's not as costly as most patients anticipate, though costs do vary from patient to patient, and depending on the type of breast implants selected (saline or silicone).
Saline implants are the least costly of the available options, though a surprising 85% of patients opt for the more expensive saline implants.
To determine the full and final cost of your breast augmentation, a number of factors are considered including operating room and anesthesia fees, a consultation fee (which rolls into the procedure itself), and, finally, your surgeon's fee. Please reach out for additional information or for a personal consultation.
Dr. Antell's Breast Augmentation Patient Reviews
I received all the attention from Dr. Antell and his friendly staff. I am very happy with the results. It's been less than 2 weeks since the surgery, I feel ver...
Four years later I look in the mirror every day and breathe a sigh of relief. I love my breasts. He did a wonderful, wonderful job.
I had breast implants with dr. Antell and I am very happy with my results! Dr Antell and his staff are all very nice and accommodating, and the entire experienc...
Dr. Antell is an incredible surgeon. He far beyond exceeded any expectations I had for my breast augmentation. His expertise in the field is just what I needed ...
Breast Augmentation Recovery Time
Dr. Antell discusses the details of breast augmentation and the procedure's recovery time.
Acellular Dermal Matrix For Preventing Capsular Contracture
Hear Dr. Antell explain ADM (Acellular Dermal Matrix) and its use in preventing capsular contracture in breast augmentations.
Dr. Antell: a reputation
for excellence
Dr. Antell has garnered a reputation for excellence in plastic surgery and is often called upon by patients who demand the highest quality surgical outcomes. His breast augmentations are performed with advanced techniques, so the outcome appears fully natural. Many of his new patients come from a referral by a former patient, which speaks to how satisfied and pleased they are with the high level of care he provides.
His extraordinary surgical skills are widely known among the medical community. Throughout his illustrious career, he has repeatedly been asked to lecture, both nationally and internationally, to discuss his techniques in plastic surgery. While he would never disclose specifics, his New York breast augmentation patients have included Playboy Playmates, swimsuit models, and numerous actresses.
What are the different types of breast implants?
A breast implant is a silicone shell filled with either silicone gel or salt water (saline).
Silicone gel
Silicone gel implants more closely mimic the texture and feel of natural breast tissue.
Saline
Saline implants have the advantage of potentially being placed through a slightly shorter incision.
Both types of implants are FDA approved, and have been used for many years in breast augmentation surgery.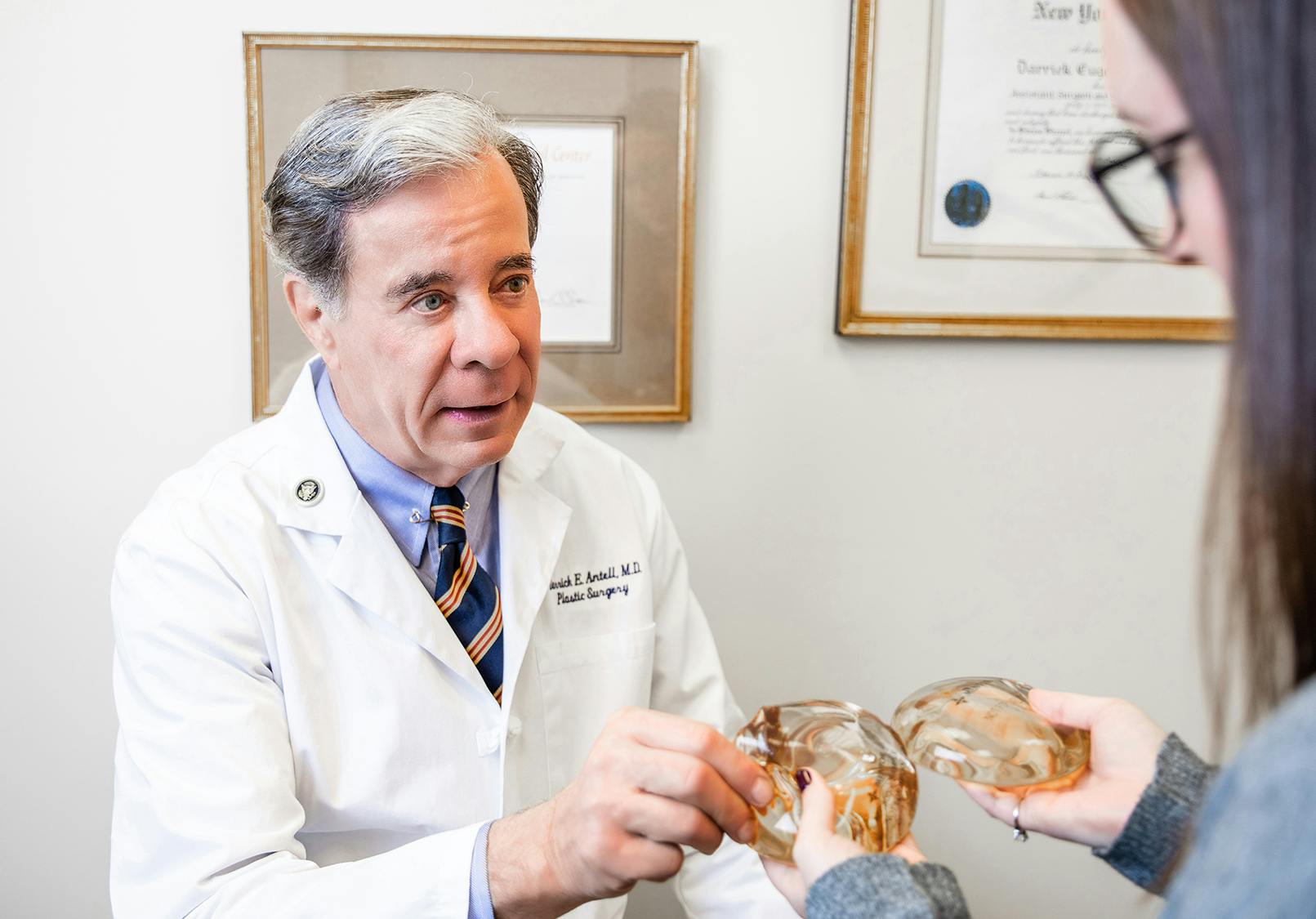 What can I expect during
my breast augmentation consultation?
During your initial consultation, Dr. Antell will perform a comprehensive evaluation of your general health and medical history, as well as assess the current condition of your breasts. Together, you will create a surgical plan to best achieve your desired outcome.
By having an open and honest conversation with Dr. Antell about your expectations, he can guide you through selecting the proper implant type, incision type, implant placement, and size. After a detailed discussion of the procedure, Dr. Antell will talk through the risks with you. You can also gain more information by reading the manufacturer's insert that comes with the selected implants to ensure you are fully informed. Please be sure to inform Dr. Antell if you smoke or if you're taking any medications, vitamins, or drugs. Don't hesitate to ask Dr. Antell any questions about the surgery, recovery, and expected outcome.
How should I prepare for my breast augmentation?
You will be provided with instructions to thoroughly prepare you for surgery, including guidelines on eating and drinking, smoking, and taking or avoiding vitamins, iron tablets, and specific medications. You may be given prescriptions that should be filled prior to your day of surgery. Depending on your medical history, you may be asked to provide pre-operative clearance from another doctor. As the procedure is performed under "twilight" sedation, you should arrange for someone to drive you home after your surgery and ensure you have someone to assist you for the first few days.
Where will my breast augmentation be performed?
Dr. Antell has privileges in numerous hospitals throughout New York City, but most patients prefer for the procedure to take place in his discreet, private operating room located just across the street from world-renowned Lenox Hill Hospital. His facility has a private back entrance to ensure total discretion and all members of his staff have been thoroughly trained to offer personalized care. The state-of-the-art outpatient surgery facility is fully accredited, designed for your comfort, and equipped with the latest technology.
Meet
Dr. Antell
Dr. Darrick Antell repeatedly appears on the Best Doctors Lists for Town and Country, Vogue, and New York Magazine. In a career that spans over twenty years and more than ten thousand procedures, Dr. Antell combines meticulous surgical skills, the latest and safest of medical technologies, and the distinct eye of an artist, allowing his results to whisper, not scream.
He has won numerous awards, including Fellow of the Jacques W. Maliniac Circle of the American Society of Plastic Surgeons, Who's Who in Medicine and Healthcare, Who's Who in the World, Who's Who in America, and President's Citizenship Award, Medical Society of the State of New York.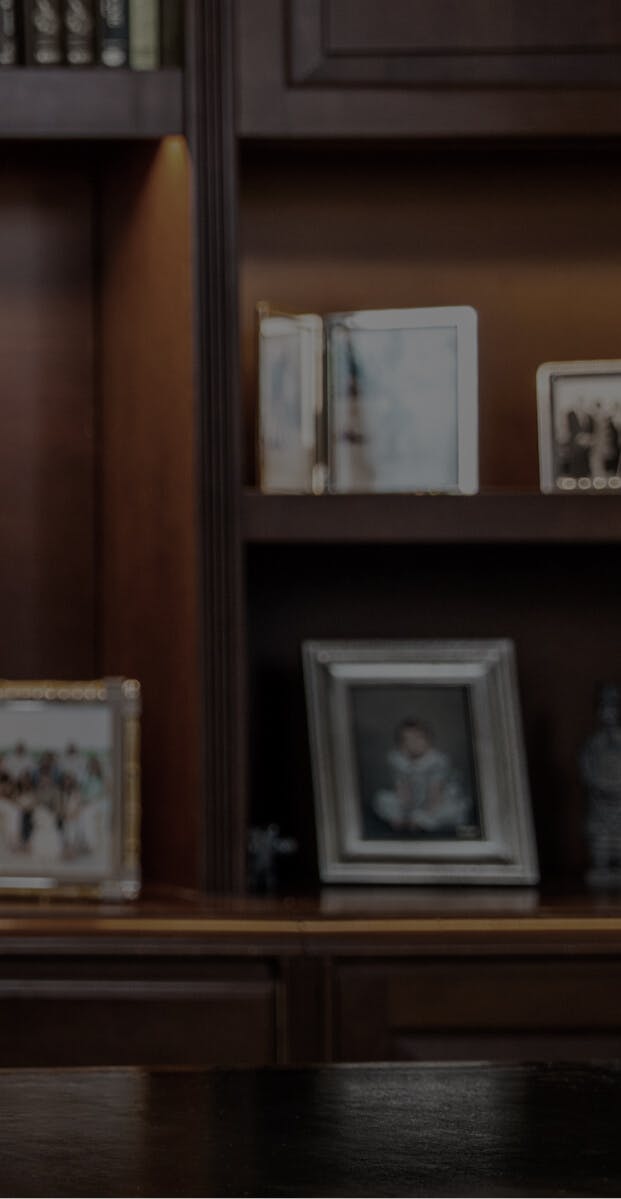 What are the risks of a breast augmentation?
A breast augmentation is typically a safe procedure when performed by a board-certified plastic surgeon. However, as with any surgery, there are always risks. The most common complication after breast augmentation is capsular contracture, a condition in which the capsule surrounding the implant restricts the implant, resulting in a misshapen appearance, hardening of the area, and pain. Capsular contracture can be treated by removing the implant and scar tissue, and, if desired, placing new implants. Placing ADM (acellular dermal matrix) such as Strattice or Alloderm has had very promising results for resisting capsular contracture. This may also be combined with prescribing Accolate to significantly lower capsular contracture rates.
Other complications include bleeding, infection, numbness, and implant rupture. Infection typically presents within a week after surgery and can usually be treated by antibiotics and, in some cases, removing the implant. Rupture can occur as a result of injury or from normal compression and movement of the breast causing friction with the manmade shell of the implant. If a saline implant ruptures, the salt-water is harmlessly absorbed by the body, resulting in the breast appearing deflated. With both saline and silicone implant ruptures, a revision surgery is performed to replace the implant and remove any troublesome scar tissue. There is no evidence that breast implants affect fertility, pregnancy, or the ability to nurse. If you have nursed within a year prior to augmentation, you may produce milk for a few days after surgery. Dr. Antell will provide a thorough discussion of all risks during your initial consultation.
How is a breast augmentation performed?
The chosen incision method and placement of the implant will be customized to your anatomy to ensure natural-looking results. The incision can be made either below the crease near where the breast meets the chest, around the areola (the darker skin surrounding the nipple), or in the armpit. Every effort will be made to assure that the incision is placed so that any scarring is as inconspicuous as possible.
Working through the incision, Dr. Antell will delicately lift your breast tissue and skin to create a pocket, either directly behind the breast tissue (subglandular placement) or behind the pectoral (chest) muscle (submuscular placement). The implants are then centered beneath your nipples.
Placing the implants behind the chest muscle may reduce the risk of capsular contracture. This placement requires a different process than undergoing a mammogram. Placement behind the muscle can add a few days longer for recovery than when the placement is directly under the breast tissue. Women with very little natural breast tissue may achieve a more natural-looking result with the implant placed behind the chest muscle. Dr. Antell will discuss this in full detail during your consultation so that you can make the right decision based on your anatomy and desired outcome.
Multiple layers of internal, dissolving sutures will typically be used to close the incisions. Dr. Antell may place a layer of gauze and a bandage over your new breasts to speed healing. The surgery usually takes between one to two hours to complete.
What will my breast augmentation recovery be like?
After undergoing the surgery, you will recover in Dr. Antell's state-of-the-art recovery suite while being monitored by one of his nurses until you feel well enough to be discharged. A specialized, long-lasting local anesthesia is used to dramatically decrease any discomfort. Breast augmentation is an outpatient procedure, meaning you can return home the same day after the procedure.
When performed with "twilight" sedation, you should be prepared to have an escort to bring you home, as you will not be able to drive for 24 hours after the administration of anesthesia. Upon leaving the facility, you will be provided thorough discharge instructions that will guide you through the initial postoperative period. Throughout the entire recovery process, Dr. Antell and his staff will be available to answer any questions you may have.
You may feel tired or sore following surgery, but many patients are able to return to most daily activities within days of the procedure. The vast majority of patients only take extra-strength Tylenol and Valium. For women with an infant or small child, by bending and using your legs, you will be able to pick up your child within one to two days. While you may feel some discomfort, you will not harm the implants. It is best to refrain from vigorous exercise for around two weeks, but Dr. Antell will provide an individualized recovery plan based on the intricacies of your customized procedure and your rate of healing.
It is important to follow all post-operative instructions carefully and refrain from activities that could put stress on your incisions. You will typically return to the office for your first follow-up appointment a day after the procedure so that Dr. Antell can evaluate how you are healing. The swelling in your breasts will take several months to fully dissipate, with the final result typically being visible around 6 months.
Your scars will be firm and pink for at least six weeks. Then, they may remain about the same size for several months or may appear to widen. With time, the scars will begin to fade, although they will never disappear completely.
What will my expected result be?
For many women, the result of breast augmentation is satisfying, even exhilarating, as they finally have the plump, rounded breasts they have always wanted. The important thing is how you feel about it; if your body now brings you greater happiness and confidence, then your surgery was a success. Follow-ups with Dr. Antell, along with routine mammograms, will help ensure that any complications, if they occur, can be detected and treated early.
What type of anesthesia is used?
Breast augmentation is typically performed with local anesthesia and intravenous sedation or with another form of "twilight" sedation. In either case, you will not experience any discomfort during the procedure. A board-certified anesthesiologist will monitor you throughout the procedure to ensure safety.
How are mammograms performed after a breast augmentation?
While there is no evidence that FDA-approved breast implants cause breast cancer, implants change how you undergo scheduled mammography. Routine mammograms should be continued after breast augmentation for women who are in the appropriate age group, although the mammographic technician should use a special technique and additional views may be required. Be sure to go to a radiology center with experienced technicians to get a reliable image of a breast with an implant. It is important that you tell the center that you have implants before arriving for your mammogram, so the correct procedure is used.
How do I get started with my breast augmentation?
Dr. Darrick E. Antell and his staff will be happy to provide a discreet and private consultation to evaluate your needs and discuss a breast augmentation. Please call the office at (212) 988-4040 to schedule your consultation.