Dr. Antell is Considered Among The Best Plastic Surgeons in NYC
When you're considering plastic surgery, choosing the right plastic surgeon is the first and most important step. With over 20 years of experience providing quality care to his patients and board certification in plastic and reconstructive surgery, New York plastic surgeon Dr. Darrick Antell brings technical precision, compassion, and a proven track-record of success to each new case he takes on.
Dr. Antell has been recognized as one of America's top plastic surgeons in Delta Sky Magazine, adding to a long list of media recognition he has received for his success in the cosmetic surgery field. Each doctor recognized is board certified by the American Board of Plastic Surgery (ABPS), was peer-nominated, and selected by the nation's leading providers of information on top doctors.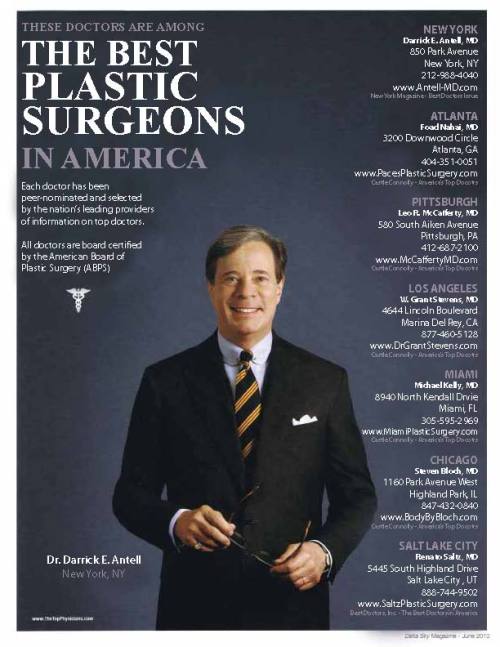 After receiving his medical training in general surgery from Stanford University Medical Center, Dr. Antell received specialized training in plastic and reconstructive surgery at the New York Hospital/Cornell Medical Center and the Memorial Sloan-Kettering Cancer Center in NYC.
Dr. Antell has the unique distinction of having earned a Doctor of Medical Dentistry degree (D.M.D) before earning a medical degree. According to Dr. Antell, the experience and training he received in dental school was invaluable. "It's terrific training in using your hands," he said. It also gave him the training and expertise necessary to analyze and reconstruct the face, allowing him to offer a broad range of both facial and body cosmetic procedures.
Dr. Antell's Delta Sky Magazine recognition is the latest in a string of nods by various printed media outlets. He has been counted numerous times on New York's best doctor list by New York Magazine and is named one of the top cosmetic surgeons in America by Town & Country Magazine. Dr. Antell has also been featured in Vogue, Glamour, Elle, and Newsweek. Television nods include "The Tonight Show," "Good Morning America," "The Today Show," and "The Early Show."
For more information about the cosmetic procedures Dr. Antell offers or to schedule a private consultation, please call 212.988.4040 or visit Dr. Antell's website.
Best Plastic Surgeon New York City