Is Cellulaze in NYC Fact or Fluff?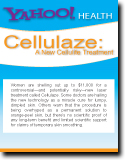 Traditional cellulite treatments have been ineffective at producing long term results, but Cellulaze in New York claims to offer permanent cellulite reduction. In a Yahoo Health article titled, "Cellulaze: A New Cellulite Treatment," Dr. Darrick Antell discusses how Cellulaze works, compares its benefits with liposuction, and whether the results that Cellulaze achieves will last. Without independent studies and long-term results, however, Dr. Antell feels that this cellulite reduction technique is still too new to offer at his practice.
Click on the link below to read Dr. Antell's full featured article in Yahoo Health!
Yahoo Health— Cellulaze in New York City
Darrick E. Antell M.D., F.A.C. S. and his staff welcome any questions or concerns you may have about cellulaze in New York City. You may contact his New York, NY office at 212.988.4040 or request an appointment online to schedule a personal consultation with Dr. Antell.
Additional Links: