Kissable Lips this Valentine's Day with Collagen Injections in NYC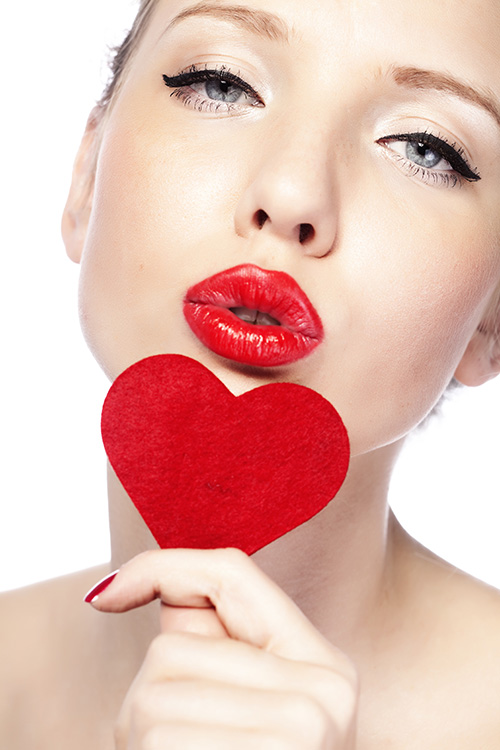 This Valentine's Day, evenings will fill with candles, roses, and heart shaped boxes of chocolates. As you cuddle up next to your sweetheart during this love filled holiday, speak I love you with kissable lips!
Although many of us may have relied on our favorite lip-gloss with lip plumping tingling solutions in the past to keep lips shimmering, lips that lack volume can cause you to appear older and can even cause facial proportions to seem uneven or imbalanced.
While many people are born with small or thin lips, the most common cause of thinning lips is due to the breakdown of collagen. Other factors that can contribute to thin lips include family genetics, repeated pursing or puckering, dehydration, overexposure to the sun, and smoking.
In addition to thinning lips, patients may also experience facial wrinkles and lines as consequences similar to those that can lead to thinning lips. For example, as we age, gravity, sun exposure, and repetitive movements of the facial muscles can cause underlying muscles to break down. This can account for a loss of skin elasticity, leading to facial wrinkles and folds. At the office of Dr. Antell, we provide Juvederm®, fat injections, and other injectables in NYC to plump your lips and fill facial wrinkles, keeping skin looking young and beautiful.
While fat injections are reliable and safe, patients may choose one of the other approved products for lip plumping, such as Juvederm depending on their individual preferences and skin sensitivity. For patients who prefer not to use fat injections, there are pre-packaged fillers that can be injected, in-office with no recovery.
Fat injections require extraction of your natural fat cells from the abdomen, thighs, or buttocks. This fat is cleaned and placed using a syringe. This is a time consuming process and most people prefer the pre- packaged fillers. An exception would be if a patient is having a face or neck lift, at which time Dr. Antell may inject fat to further enhance the cheeks.
After treatment of wrinkles or thinning lips using fat injections at our NYC office, patients may experience mild redness, bruising, and/or swelling. In most cases, these side effects rest within 48 hours, so you can quickly proceed to enjoying your rejuvenated look of youth! Pre-packaged fillers, such as Juvederm, however, have a minimal recovery and patients return to work the next day, or even that afternoon.
Achieve kissable lips this Valentine's Day, and re-discover your look of youth and facial rejuvenation. Dr. Antell and his staff welcome any questions you may have about lip fillers, including Juvederm® in NYC! Contact our New York City office at 212.988.4040, or request an appointment online for your personal consultation.
Additional Links: