Lead with your Chin with Chin Implants in NYC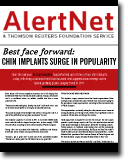 Are you looking for a confidence boost that can enhance your appearance and give a great first impression? Consider the fastest rising cosmetic surgery today among both men and women: chin implants in New York. Dr. Darrick Antell is featured in an AlertNet article for his exceptional contributions to the field of plastic surgery and especially for his work on chin implants. The recent surge in chin implants in NY is no surprise as it provides patients with a quick and noticeable change in their facial features with relatively little downtime.
Click on the link below to read Dr. Antell's full featured article in AlertNet on the impact chin implants in New York has on the individual and on society!
Darrick E. Antell M.D., F.A.C. S. and his staff welcome patients to voice any questions or concerns you may have about chin implants in New York. You may contact his New York, NY office at 212.988.4040 or request an appointment online to schedule a personal consultation with Dr. Antell.
Additional Links: