Look Beautiful for Prom & Beyond with Chin Implants in New York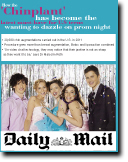 Along with expensive dresses, shoes, wristlets, hairdos, nails, and jewelry, teens have added a new item to their budget for the expenditures on prom: chin implants in NYC. In the attempt to look more glamorous than their peers on the big day, teens are considering chin implants in New York City to give them that extra wow. In a featured article by Daily Mail, "How the 'Chinplant' has become the latest must-have for U.S teens wanting to dazzle on prom night," Dr. Darrick Antell discusses how chin implants in NY don't just enhance a person's appearance. They also change how others perceive a person's personality, character, and capability.
To read the full featured Daily Mail article on chin implants in NYC, click on the link below:
Daily Mail— Chin Implants in NY
Darrick E. Antell M.D., F.A.C. S. and his staff welcome patients to voice any questions or concerns you may have about chin implants in New York. You may contact his New York, NY office at 212.988.4040 or request an appointment online to schedule a personal consultation with Dr. Antell.
Additional Links: