New Woman - The Best Doctors in New York
Breast Reconstruction in New York City
Darrick E. Antell, M.D.
850 Park Avenue, New York, NY 10075
(212) 988-4040.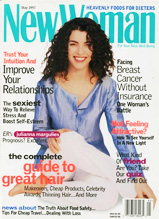 (Dr.) Swistell has been her one salvation in this whole ordeal, and Margie is still dumbfounded that, without insurance, she managed to hook up with one of the best breast surgeons in New York. Her good fortune was that she'd seen him two years earlier with a different problem, and that gave her an in.
While Swistel's staff did quiz her about insurance when she called for an appointment, former patients aren't likely to get turned away, no matter what the answer. "They know that my philosophy about this is "We'll work something out; at least see the patient," says Swistel, whose devotion to his work is telegraphed by his kind eyes and slightly rumpled, sleep-deprived demeanor. It doesn't hurt that Margie's unflagging humor and grace make it easy to want to help her. Swistel not only will perform Margie's mastectomy, he has even enlisted his friend Dr. Darrick Antell - cited by New York Magazine as one of the city's best plastic surgeons - to handle the reconstruction.