New York Chin Implants Surge in Popularity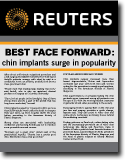 According to recent studies conducted by the American Society of Plastic Surgeons, chin implants in NYC are the fastest growing surgery in 2011! Dr. Darrick Antell is featured in an article in Reuters, "Best face forward: chin implants surge in popularity," which discusses this newest trend in plastic surgery. Not only is the chin implant procedure itself on the rise, but the people who have strong chins seem to be rising through the ranks as well, especially in business.
Click on the link below to read Dr. Antell's full featured article in Reuters and discover how chin implants in New York can benefit your appearance and your career!
Darrick E. Antell M.D., F.A.C. S. and his staff welcome patients to voice any questions or concerns you may have about chin implants in New York. You may contact his New York, NY office at 212.988.4040 or request an appointment online to schedule a personal consultation with Dr. Antell.
Additional Links: