Crains: Appearances are Deceiving
NYC Plastic Surgery for Men
Darrick E. Antell, M.D.
850 Park Avenue, New York, NY 10075
(212) 988-4040.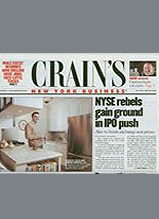 Solomon Golub always felt young for his 64 years, but he started to notice a droop underneath his eyes and a sag to the rest of his face - telltale signs of his age.
Impressed by the success of procedures that his friends had, Mr. Golub took the plunge last June with a full face-lift and eyelid operation.
"It took off 20 years," says Mr. Golub, an importer based on Long Island.
From Wall Street bankers to waiters, an increasing number of New York men are going under plastic surgeon's knife and seeking cosmetic treatments like Botox injections. The trend is being fueled by the growing pressures of a cutthroat work environment that favors the young, by the greater acceptance of people who have the procedures, and by nudges from wives.
But unlike many women, most men are reluctant to have major procedures to alter their looks and are more interested in returning to a better-rested version of their old selves.
Nationally, the number of men seeking plastic surgery rose 10% between 2002 and 2003, according to figures released by the American Society of Plastic Surgeons last month. About 334,000 men have had Botox injections. In New York, top plastic surgeons say they are seeing even greater numbers of men, who now make up about 20% of their patient population, compared with only 10% a few years ago.
Eyes and Noses
The most popular procedures are for minor corrections, such as nose jobs and eyelid surgeries. There's greater demand for liposuction on love handles because of the slimmer cut of men's suits. Surgeons are also seeing more men for chin implants, a small operation with little visible scarring that can dramatically enhance a patient's overall appearance.
"When you look at most CEO's, they tend to be taller than average with strong chins," says Dr. Darrick Antell, a Manhattan-based surgeon who admits to having had a little work done on himself. "A chin is a very important landmark."
Dr. Antell, who, through mutual friends, has been trying to persuade former President Bill Clinton to have his eye bags fixed, has treated a number of high-powered Wall Street executives. They are choosing to spend their annual bonus checks on cosmetic procedures instead of on fishing trips to Montana. Why? Because of the tremendous pressure they feel to look physically fit, vigorous and up to the job.
A CEO of a company that was soon to be taken public saw Dr. Antell last year to have a lower blepharoplasty - the removal of fatty tissue and excess skin from underneath the eye because he was afraid that his tired appearance would drag down the price of his company's shares. "Men today tend to wear their resumes on their faces," says Dr. Antell.
Career concerns may also be driving down the ages of male patients, who now range between 35 and 55, according to many plastic surgeons in New York. Almost 90% of the 404 executives surveyed earlier this month are worried that they may soon be discriminated against because of their age, according to ExecuNet, an executive recruitment firm.
Media Pressure
Because New York is the hub of North America's media and fashion industries, there's even more pressure to keep young and beautiful.
"I don't care what you do, looking good is important," says Clif de Raita, 52, director of beauty for Georgette Klinger Inc., who recently started having injections of Restylane - a long-lasting filler that erases his frown lines and smoothes his nasolabial folds. He adds, "I like waking up and not looking like a shar-pei."
But Mr. de Raita, whose company will soon offer New Yorkers procedures like Botox injections through the Advanced Aesthetics Institute, shies away from surgery. He's seen too many clients who look like they're wearing plastics masks.
Fillers that can be injected with a needle are especially popular among men because they require less downtime. Typically, patients will book surgical procedures before the weekend in order to be back at work early the following week.
Most men opt for less extreme makeovers because male skin quality and bone structure are less forgiving if a procedure isn't done well. Besides scarring, a less-than-perfect eye job is more likely to lead to a perpetually surprised look on men than on women.
Male patients are much less willing to admit to having work done than are women, even though 65% of men say that they find plastic surgery acceptable for both sexes, according to a recent GQ magazine survey. "They still have a hard time saying 'face-lift,'" says Dr. Paul Laurenc, who has a private practice on Park Avenue. "They say, 'Just clean up my neck please.'
by Samantha Marshall