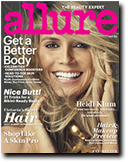 The American Society for Plastic Surgeons recently released new statistics on current plastic surgery trends, and the fastest growing cosmetic procedure in America is chin implants. In a featured Allure Magazine article, Dr. Darrick Antell attributes the rise of chin implants in New York to social interaction in the corporate world. Dr. Antell's previous research has indicated that 90% of CEOs in Fortune 500 companies have strong chins, while only 40% of the US population displays strong chins. More CEOs with strong chins may rise through the corporate ranks because their superiors subconsciously associate this facial characteristic with self-confidence, authority, and trustworthiness. Click on the link below to read the full featured article in Allure:
Chin Implants in NY— Dr. Antell Print Media
Having a strong chin, whether naturally or through chin implants in NY, may actually provide business men and women with an edge over their nonprominent-chinned competition. Darrick E. Antell M.D., F.A.C. S. and his staff welcome patients to voice any questions or concerns you may have about chin implants in New York City. You may contact his New York, NY office at 212.988.4040 or request an appointment online to schedule a personal consultation with Dr. Antell.
Additional Links: