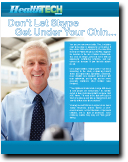 The face a person sees in the mirror isn't always the face they envision for themselves. With the rise of technology, video communication outlets, such as Skype, are adding to many people's dissatisfaction with their facial features. This dissatisfaction stems from nonprominent chins and undefined jawlines which have spurred a recent increase in chin implants in NY. Dr. Darrick Antell, a top New York surgeon, provides chin implants in New York City to not only increase the volume and definition of a person's chin but to also increase their self-confidence and social image as well. Click on the link below to read the full featured Health Tech article on chin implants in New York:
Dr. Antell Print Media- Chin Implants New York City
Darrick E. Antell M.D., F.A.C. S. and his staff welcome patients to voice any questions or concerns you may have about chin implants in New York City. You may contact his New York, NY office at 212.988.4040 or request an appointment online to schedule a personal consultation with Dr. Antell.
Additional Links: