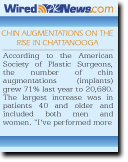 A recent rise in chin implants in NY may actually be caused by business ambition. According to Wired News, Dr. Darrick Antell conducted an anecdotal study which found that 90% of CEOs have strong chins while only 40% of the US population displays this physical trait. Dr. Antell believes that people associate strong chins with leadership, character, and trustworthiness. Perhaps receiving a chin implant in NYC will help you climb the corporate latter!
Click on the link below to view the Dr. Antell's featured article in Wired News:
Wired News— Chin Implants New York
Darrick E. Antell M.D., F.A.C. S. and his staff welcome patients to voice any questions or concerns you may have about chin implants in New York City. You may contact his New York, NY office at 212.988.4040 or request an appointment online to schedule a personal consultation with Dr. Antell.
Additional Links: