Read about Skin-Saving Advice on RealSimple.com!
Leading New York plastic surgeon Dr. Darrick Antell was recently featured in RealSimple.com's article, "10 Summer Hazards," by Brigitt Hauck.
Dr. Antell serves as assistant clinical professor of surgery at Columbia University in New York City and is the educational spokesperson for the Skin Cancer Foundation.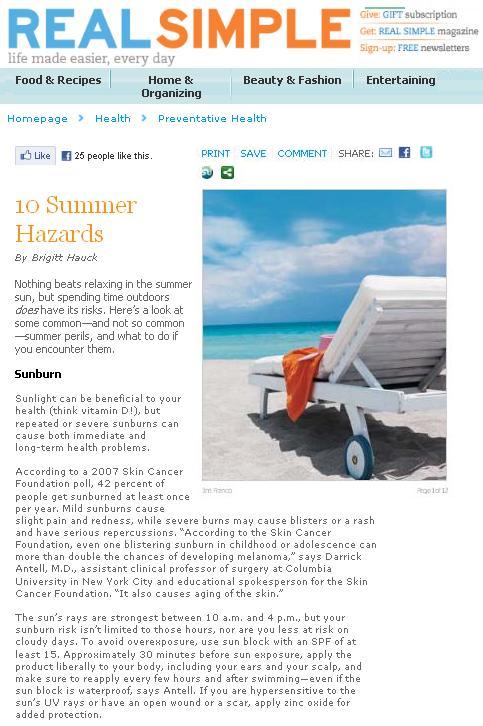 In the article, Dr. Antell offers his advice on how to avoid over-exposure to the sun, which is damaging to the skin. Not only can prolonged exposure to the sun age your skin, but it also exponentially increases your risk for developing skin cancer. In fact, Dr. Antell cites research done by the Skin Cancer Foundation that suggests that just one blistering sunburn from childhood or adolescence can more than double your chances of developing melanoma later in life.
As for how to minimize the risks associated with sun exposure, Dr. Antell's advice is to apply SPF of at least 15 often and liberally. Make sure to apply sun screen to any exposed skin, including your ears and scalp. Swimming? Reapply every few hours, even if you're using water-proof sunblock.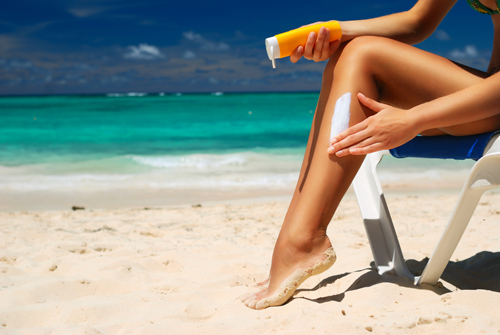 So what happens if you do get burned? Unfortunately, there's no magic treatment. Sunburn takes time to heal, and there's no real way to expedite the process. You can, however, minimize discomfort while you're healing. Applying cold compresses, using aloe, and taking anti-inflammatory pain relievers can all help relieve the symptoms. If the symptoms are too much to bear or if you have blisters, fever, chills, confusion, nausea, or headaches, it's time to see the doctor.
Read the complete article here.
Additional Links: