Plastic Surgery New York, NY
Darrick E. Antell, M.D.
850 Park Avenue, New York, NY 10075
(212) 988-4040.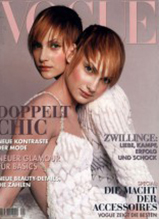 Jane and Joan Kochan have spent their whole life together. Their respective marriages lasted only a short time and since then they have been each other's favorite company. Joan and Jane live only a stone's throw away from one another in Clearwater on Florida's west coast. Every day from seven in the morning until five in the afternoon they sit facing each other in the investment company Solomon Smith Barney, where they are responsible for managing their clients' capital — around 170 million dollars — profitably. The evenings are short and are often reserved for dinner with clients or a workout with their joint trainer and always entail preparations for the next morning, which the alarm clock announces at five o'clock. About three years ago, during a difficult economic phase, Joan discovered signs of tiredness in her twin-sister's face, which could not be cured by good cosmetics nor by lots of sleep at the weekends. Jane saw the same symptoms in Joan's face. "We don't smoke, we don't drink, we are not married nor do we have any kids," they both thought and attributed the lines to stress resulting from the fluctuating stock market. Moreover they were both on the other side of their mid-forties. "We haven't wasted any time thinking about growing old with dignity," as Jane puts it.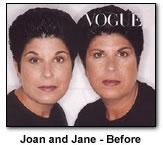 Even as teenagers Joan and Jane were interested in fashion, dressing in black in the pink and turquoise world of Florida. The tired faces simply did not go with their wonderful fighting look, made up of highly tailored suits, shiny buttons and solid gold jewelry, a look they perfected over the years. One day Jane came across an article about a plastic surgeon who had operated on more twins than any other doctor.
During his training to become a plastic surgeon, Dr. Darrick Antell had met a set of female twins, which aroused his interest in this complex form of identity: one of the young girls had been disfigured by burns. How difficult could it be for the two of them —Antell asked himself — to look at each other?
Later, after he had been in practice for many years on Park Avenue in Manhattan, Antell traveled one summer to Twinsburg in Ohio, where thousands of twins celebrate their existence as identical pairs every August and where scientists recruit volunteers for their research projects on cancer, multiple sclerosis and every other conceivable illness. To Antell's surprise no-one seemed to have seen aging as a subject for research. So he started on the systematic comparison of the skin and tissue condition of single-egg twins. Using hundreds of photos he demonstrated impressively the influence of the sun and nicotine, nutrition and worry on the physiognomy. Whilst most dermatologists regard the sun as the worst factor in wrinkle formation and as evidence point to wrinkle-free zones of the body which are protected lifelong by clothes from the sun's rays, Antell attributes to cigarettes the main role in accelerating the aging process: "Smoking is an entire body problem, reducing not only the blood supply to the skin, but also to the liver , the heart and the kidneys."
Even twins whose ways of life were very different and whose double portraits looked more like before-and-after pictures of the same people, were aware of the inequality only in the rarest of cases: they saw themselves mirrored in the face of another person — until Dr. Antell told them otherwise. Many twins decided there and then to have an operation to restore the optical balance.
Joan and Jane had in face led almost identical lives and accordingly their skins demonstrated hardly any differences worth mentioning in terms of structure, yet under no circumstances did they want to lessen the much-loved similarity of their appearances, by one suddenly looking younger than the other: "We are regarded as a unit," say Jane and Joan. The career women didn't want to change anything in their double power image. For their 48th birthdays they gave each other a facelift from Dr. Antell.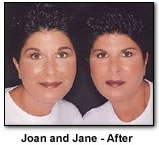 Joan and Jane, daughters of an Argentinean mother and a German Jewish father, are blessed with good skin with lovely coloring. Most of their friends advised them against the operation and instead recommended a trip to a health farm, to get some rest. Even Dr. Antell considers an operation in many cases to be premature and refuses about fifteen percent of all potential patients, because they suffer from a distorted self-image. He is regarded as one of the most expensive doctors in his field and does not rely on a large turnover of patients — for the New York Times he calculated that Barbie, who had just turned 40, would have to pay out about $53,000 to reconstruct her youthful perfection, if she were not made of eternal plastic. A colleague would certainly bill her for less for a facelift, tummy-tuck and hip liposuction. But at Dr. Antell's the patients lie under warmed blankets and they find chocolates on their pillows in the evening: he calls his Park Avenue practice a five-star business, with a discreet side entrance for the VIP clientele who — if they don't live just round the corner — prefer to check into the neighboring expensive hotels. He considers Joan and Jane as classic "baby-boomers" — member of the post-war population explosion who confront their cosmetic midlife-crisis with the weapons of current fashion.
With twins Dr. Antell always operated according to the time of birth for "reasons of consistency." The younger twin has to sit out the longer waiting period with an empty stomach, but she has the advantage that the doctor is working on familiar territory with her: "When I have operated on one twin, I know the second one without looking."
Dr. Antell started by suctioning small deposits of fat under both women's chins, and he removed from both so-called buccal fat, the small deposit in the cheek which prevents and elegant, firm face contour. Models particularly like this small operation which only lasts a few minutes as it enables a better distribution of light and shade. In days gone by patients used to have their molars removed for the same effect.
Joan and Jane were satisfied with a lift of the lower half of the face, which did, however, require extensive work on the tissue lying below before the skins could be gently smoothed at the the level of the eyebrows. The incisions are hidden behind the ears and the hairline. Shortly after the procedure Dr. Antell sent both sisters to a skin specialist, who reduces the swelling and bruises in the shortest possible time with herbal cremes, lymph drainage and individually selected combinations of vitamins.
Four days after their operations, Joan and Jane appeared for a check-up in Antell's office, the fading bruises hidden behind large sunglasses, and laden with shopping bags from Bergdorf Goodman on Fifth Avenue. Dr. Antell was pleased. However, even in this case he has yet again not succeeded in setting the example he dreams about: he would love to prove on a single-egg pair of twins that the benefit of a good facelift is never lost. Even twenty years after the operation, one sister will look as many years younger as straight after the operation. The chances of finding an acquiescent pair to prove his theory are very slim. Antell knows the issue with plastic surgery, not only for twins, but for everyone else, is similarity: "...similarity with the picture of oneself, which one considers as normal."
by Claudia Steinberg