Dr. Antell Shares Before & After Pics of Plastic Surgery in NYC
Deciding if cosmetic surgery is right for you is an important decision. You should feel confident and comfortable with the surgeon you choose for your procedure. Beautiful before and after galleries often put patients at ease, knowing that other patients before them have had the same procedure they're interested in with the same surgeon and have received beautiful results safely. People have the right to know that they will be taken care of by a skilled and reputable surgeon capable of beautiful results. If a picture can say a thousand words, Dr. Antell's before and after gallery says hundreds of reasons to choose Dr. Antell as your New York Plastic Surgeon.
Dr. Antell recently released a new, beautiful before and after gallery on his website to help prospective patients decide if a particular procedure is right for them. Dr. Antell provides beautiful, natural-looking results for all of his cosmetic treatments in NY, facial procedures in NYC, and body contouring surgeries in New York. You can view the results that Dr. Antell has provided previous patients first hand by visiting Dr. Antell's website and perusing his new before and after gallery.
To view Dr. Antell's newly released before and after gallery, click on the link below!
Before and After Gallery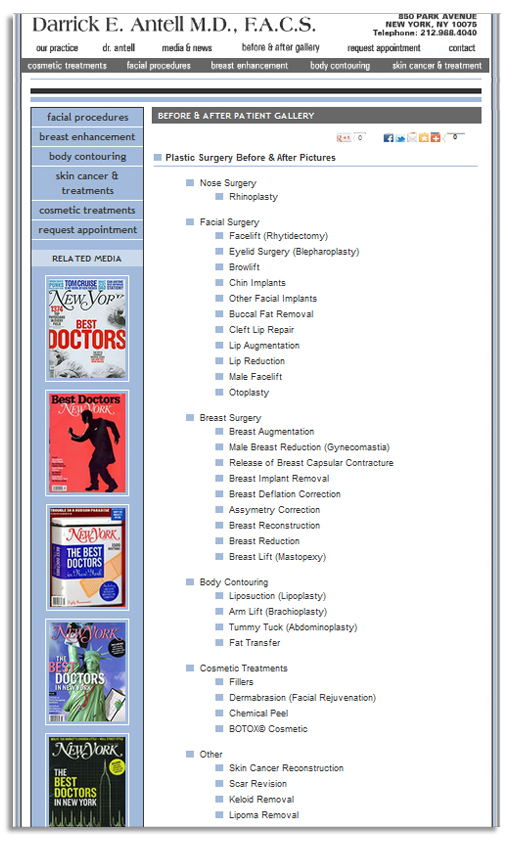 Darrick E. Antell M.D., F.A.C. S. and his staff welcome patients to voice any questions or concerns you may have about any of the plastic surgery procedures he offers in NYC. You may contact his New York, NY office at 212.988.4040 or request an appointment online to schedule a personal consultation with Dr. Antell.
Additional Links: