Shave Off Years with Eyelid Lift In New York
One of the easiest ways to shave years off one's appearance is through an eyelid lift called a blepharoplasty. In this procedure I remove excess skin that causes sagginess and bags around the eye, helping to eliminate the 'tired' look that many people develop due to weakening ligaments holding fat in place and loss of skin elasticity.
The reason that a blepharoplasty is so effective is that there are many aspects of the procedure that we can customize to one's specific anatomy. The first is that we can perform the lift on the top, bottom or both lids. Let's take a look at an example.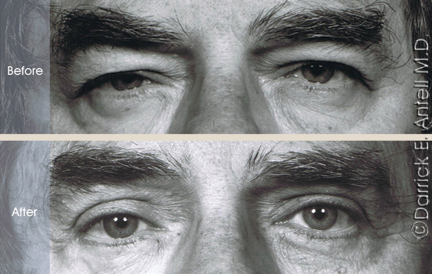 The patient above had an upper and lower lid blepharoplasty to address issues both above and below his eyes. As you can see in the before photo, the patient had developed a 'hood' above his eyes that was eliminated with his surgery. In the after photos the skin no longer hangs down below his eye lashes and instead has a nice looking crease as it did in his younger days.
We were also able to rejuvenate the area below the eye. Though part of the bags are cut off in the before photo you can distinctly see their outline in the area near the eye. We removed these signs of aging first by removing the fatty deposits from below the eye and then removing the excess skin with a lifting technique.
The final aspect of a blepharoplasty is where the incision is placed. In the lower lids, I prefer the transconjunctival approach (behind the lower eyelid) because it does not leave a scar on the skin, does not require stitching that has to be removed later and gives me excellent access to the fat deposits below the eyelid for removal.
I like this before and after photo because it demonstrates all of the different aspects of blepharoplasty surgery. Clearly excess skin on the upper eyelid manifests itself differently than on the lower lid. Add to that the effect of fatty deposits and you begin to see how unique each case is.
If you think a blepharoplasty might be right for you leave a message here, on Facebook or Twitter or call our office at 212-988-4040.
For more information on Eyelid Surgery in New York City and Dr. Antell, please visit the following links.