Facelift Specialist New York
Darrick E. Antell, M.D.
850 Park Avenue, New York, NY 10075
(212) 988-4040.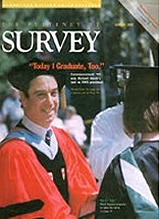 The Good Doctor
Physicians who take their service to humankind beyond their practice
On the following pages, you'll meet four HWS grads committed to helping those who need it most: two plastic surgeons who donate their surgical skill at home and abroad; a Florida dentist who established free clinics throughout the state; and a young pediatrician working with poor families on Buffalo's west side.
Not because the doctors are making money off of it, not because they're required to do so, simply because they want to be good doctors.
Giving Plastic Surgery a Facelift
Darrick Antell, MD, D.D.S., '73 balances the extremes of practice and volunteerism

Darrick Antell, MD, DDS, '73 is a Park Avenue plastic surgeon best known for beautifying the rich and famous. When it comes to cosmetic surgery, he's top notch, as attested by his frequent mention in "best doctor" listings in publications as New York magazine and Town and Country. Patients pay handsomely for procedures almost never covered by insurance. But that can have its downside, as well.
"It's important that plastic surgeons contribute to the community," says Antell. "Physicians are in a unique position to provide help."
Community service and volunteerism
Dr. Antell's commitment to volunteerism began after graduating from dental school, during the summer before he began medical school. He and his father, also a dentist, spent two weeks in Haiti doing volunteer dentistry. "I had a friend in dental school who had taken a similar trip with his father and I thought it sounded like a neat thing to do," says Antell. "It was a fabulous experience."
So as a surgical resident at Stanford, Antell was quick to volunteer with Interplast, a California-based organization providing volunteer medical services to needy children overseas. Antell traveled to Ecuador and Mexico with Interplast, doing reconstructive surgery. "We worked pretty much from dawn until dusk," he says. "There was more surgery than you could possibly do so we had to pick the most severe cases."
Antell continued volunteering with Interplast after moving to New York for his plastic surgery residency until the birth if his own five children put added constraints on his time. "It's just not a good time in my life to be doing that right now," he says.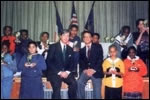 Instead, Antell turned his efforts toward several local boards and a New York City volunteer program called Operation Smile. "It's for people in the New York area who don't have any other coverage. Kids in schools are "nominated" for the program by teachers, who take snapshots of them with cameras donated by the Polaroid Company. "Most of them have some kind of congenital defect, such as a cleft lip or palate," says Antell. "I can make a huge impact on a child's life by closing up a cleft lip. It's very rewarding."
Antell served on the board of the Girl Scout Council of Greater New York for five years, and is an active board member of the East Side Settlement House, a South Bronx-based organization that provides "cradle-to-grave" assistance to residents of one of the nation's most impoverished urban areas. There, he has endowed an annual award for academic excellence that carries a stipend of $5,000.
Dr. Antell is also a Trustee for the Historical Society of the Town of Greenwich, CT. He serves on both the Nominating Committee and the Collections Committee. His family is a major benefactor of the new Vanderbuilt Education Center.
Antell has been honored by the Medical Society of the State of New York with its President's Citizenship Award for outstanding community service and is currently a nominee for the American Medical Association's Benjamin Rush award for Citizenship and Community Service. But it's not awards that inspires Antell.
"I think every physician has the obligation to give back to the community and to help out in ways they can," he says. "What I can give is special skills not available to every person on the street."
by Renee Gearhart Levy